"Writing good comedy is not easy. I know, I've tried but author Frank Crimi appears to have hit upon the solution in this madcap tale of an apocalypse in Surviving Crazy. The author has created the most unusual and disparate group of characters his fevered mind could conjure up and the amazing thing is they work and they are funny together, especially their interactions. By drawing caricatures that are so much larger than life, he has created some hilarious slapstick, visual comedy but much deeper than that, he allows his characters to go beyond the slapstick and into more cerebral humor. This is a funny book in the "slap him on the head" style of comedy and that would be enough in itself but this goes deeper and explores the stereotypes and labels we place on people, how we make snap judgments and often allow our preconceived perceptions to pre-judge before we've even gotten to know the individual. I thought this made the narrative not only funny but an interesting exploration of the human condition. By subjecting these characters to the most horrendous situation any of us can imagine brought out the worst and, yes, occasionally the best in the human condition and psyche. To be able to do this in a story meant to make us laugh is an indication of the author's talent and I must commend him for this. I loved this easy and funny read and can highly recommend it." –Readers Favorite
"Surviving Crazy is an apocalyptic comedy novel written by Frank Crimi. Former minor league pitcher Riley Knight gets a last chance to put his life back on track when old friend Louie Casanova sends him on a trip to the small town of Jericho, Idaho to scout a potential baseball prodigy. On his way, Riley finds himself stuck at a diner in the middle of nowhere as Earth is hit by a massive geometric storm, leaving the planet bereft of power. Initially disgruntled by the behavior of the other inhabitants of the diner, Riley has no choice but to work together with them to survive. As the group is forced to march toward Jericho, they must brave hillbillies, middle-aged private militias, and psychopathic police officers in their quest for sanctuary.
Part satire and part apocalyptic dark comedy, Surviving Crazy provides laughs galore. Author Frank Crimi's page-turner of a novel is hysterically funny at times, making it an engaging and entertaining read. Each character has a distinct personality, and their quirks are often exaggerated to maximize their comedic effect. The cast is quite large, but Riley, Penny, Duke, Grady, and Heidi were amongst my favorites. There is a sense of natural chemistry between the characters because the dialogue is often spot-on and filled with sarcastic wit and humor. Duke especially feels like a post-apocalyptic version of Tyrion from Game of Thrones. I had an absolute blast reading Surviving Crazy. I highly recommend it to readers who seek apocalyptic survival stories filled with dark humor."… Readers Favorite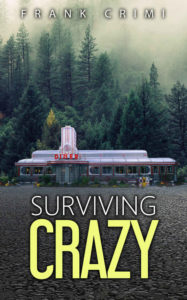 A bizarre cast of characters with a healthy dose of paranoia are forced to face an apparent apocalypse together in Surviving Crazy by Frank Crimi. With a long, character-building fuse and a whip-smart pen behind the imagery-rich writing, this novel hums with tension and possibility from the start. From doomsday preppers, moody fry cooks, and might-be Russian assassins, to mysterious damsels and an old ballplayer looking for one last shot at glory or purpose, Crimi does a remarkable job of weaving backstory into every strange scene. With secondary plot lines adding to the suspense, but never giving away the twist, Surviving Crazy is a head-scratching read that will make you laugh out loud and stay up late to see how it all plays out.
Crimi's highly entertaining book follows a group of eccentric travelers as they navigate chaos and dangers in an apocalyptic world. As a newly appointed scout for Arizona Prickly Heat, the Major League Baseball team, Riley is on his way to his new place of employment when a massive solar eruption leaves the world plummeted into darkness. With the situation turning grave, Riley and a few others must journey down a road to get to the small town of Jericho. But there is danger lurking in Jericho. Will the group be able to make it out alive? The tense plot takes many turns through Riley and the other characters' increasingly whacky adventures. This ingenious, humorous novel not only explores humanity's ability to survive in exceptional circumstances but also probes the tenuous yet unbreakable bonds between strangers in the face of calamity. Crimi's witty prose and emphasis on characterization result in a thoroughly engrossing, rib-tickling-funny read that lovers of both SF and literary fiction won't want to miss.
"The expectation the car or lights or phones would suddenly come on was gone…. This was the new normal."
The book's hero, Riley Knight, is forewarned about the possibility of a doomsday event soon to happen. A prophet at the San Diego bar quizzed him about whether he had "any idea of the number of long-term globally fatal events" possible. Riley was pretty sure that survivalists were just a bunch of lunatics. That was before puzzling events cut short his trip while driving up to Jericho, a small town in Idaho. With the gas needle close to empty, Riley pulled his miniature rental car into Shea's diner and went inside to eat. Several others, including a woman and her crazy dog, had the same idea. This strange mixture of lives filled the small space. And then the power suddenly went out. Nobody's phone worked, and no car would start.
As pouring rain and the severity of the outage intensified shortages, others joined the group at Shea's. Parents arrived with two teenage girls going cold turkey from social media. A huge, naked gun-running creature was found half-frozen, whose strength eventually pulled others to safety. Friendships blossomed despite the crazy happenings.
The author packs his chapters with bizarre events, each as if by divine planning and timing. Strange names such as local Plucky Rooster franchises and Flying Tiger Scotch abound. Antagonists named Sheriff Quack and Captain Crunch each try to usurp control in these dire circumstances. With an unlikely team of twelve drawing together, the author presents an entirely new perspective on end-time scenarios. Readers should hold onto their hats in this fast-paced story. It is bursting with troublesome yet loveable characters who fill this tale with hyperbole, danger, and amazing camaraderie
Reviews for divine roosters & angry clowns
"If there's chickli
t, divine roosters & angry clowns should be put in the category of Dude Lit. This is especially true because the novel is reminiscent of "The Big Lebowski" and the Coen brothers at their most zany… A real addictive page turner. Just when you think the book can't top itself, it does. This is a laugh out loud book: an overused phrase, but really this is a vivid and hilarious ride." — Self-Publishing Review
"divine roosters and angry clowns: an unexpected gathering" is an exceptional and original novel that holds the reader's fully entertained attention from beginning to end. An impressive and deftly crafted novel populated with memorable characters and unexpected plot twists and turns"— Midwest Book Review

"I thoroughly enjoyed this goofy, comic novel, and laughed out loud through much of it. The characters are wildly drawn, and the satire is sharp and pointed…The ending is surprising, ironic, and perfect." — Readers' Favorite

"In the starkly portrayed landscape of the end-of-the-world genre, divine roosters & angry clowns proves to be a colorful burst of comedy and satire."…Red City Review
Honorable Mention for Best General Fiction…2015 New York Book Festival

"Crimi is a gifted writer, one who can stop you in your tracks and make you howl with laughter… " 22nd Annual Writer's Digest Self-Published Book Awards.